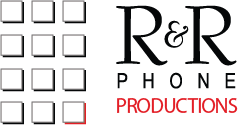 ---
For four decades, R&R Phone Productions has helped companies of every size and scope foster lasting relationships with their customers and achieve greater customer retention and sales through custom On-Hold Marketing.
---
R&R Phone Productions was started in 1980 by media production and marketing veterans Dick Ulett and Robyn Hunter.
They realized that traditional marketing budgets were spent on radio and TV to entice customers to call a business. But, no effort was being made to market to clients when they called and were placed on hold.
This was a missed opportunity!
The solution was simple:  Create a series of professionally produced on hold messages that further educate potential clients about the business; keeping them engaged and entertained while they are on-hold.